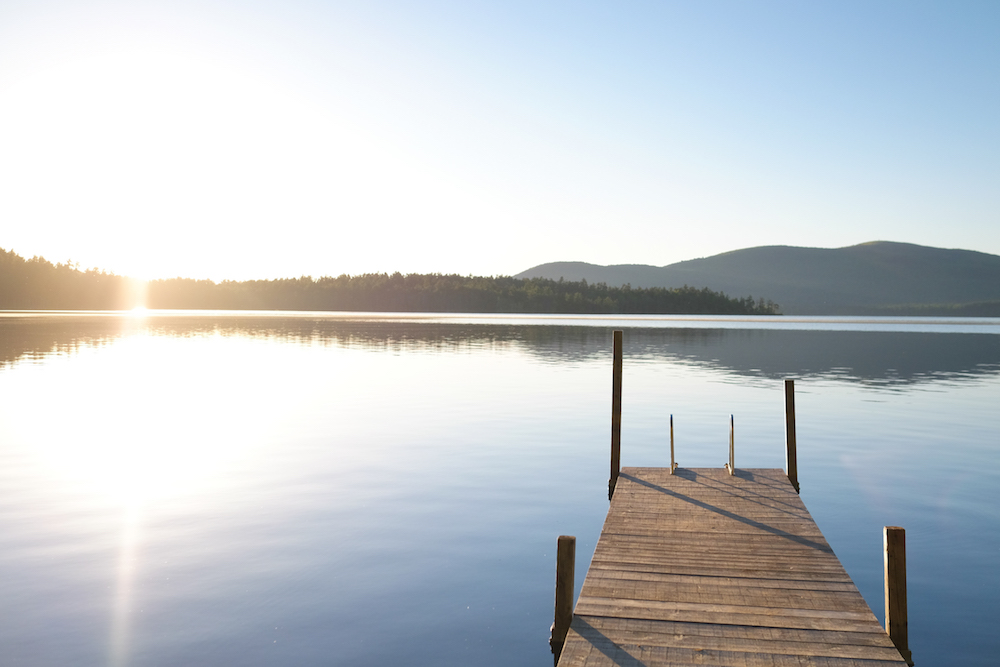 For me, Squam has always been about finding a way to connect with our inner guide so that we have the strength and resilience and refreshed spirit to navigate this crazy world that seems intent on challenging us at every turn.
The focus has always been on creativity:
the essential creativity within each of us,
the transformative power of creativity and

recognizing the inherent creativity in one another.
And though Squam offers respite, space for breath, going offline, sleeping in late and an abundance of playful energies, its purpose has never been to be an escape from reality. Rather, it has been a place with ample space to go within, breathe and find a way to reconnect with your core self, your inner wisdom and personal source of joy, so that when you return to your daily life, you have more patience, more vitality, more ability to negotiate the events that life brings.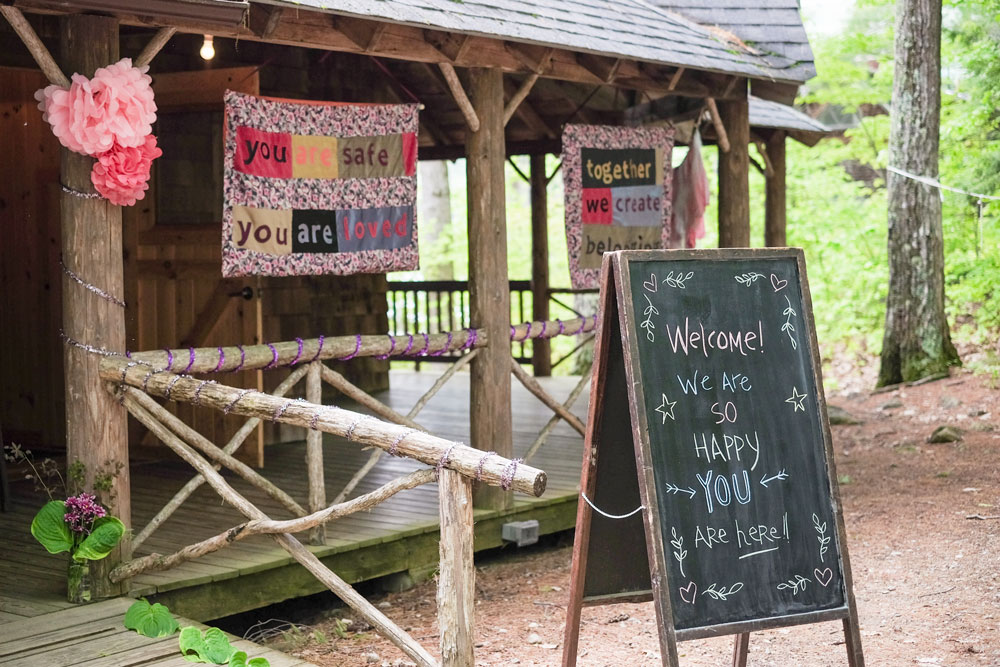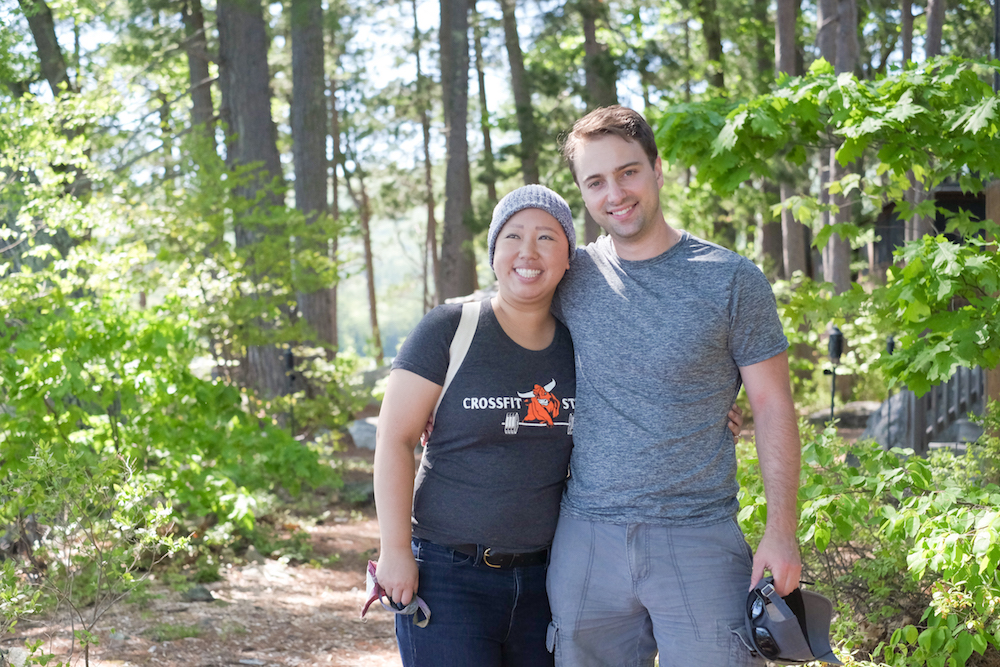 I am writing to you today because I want to follow up on what I shared Wednesday night at Opening Ceremony of Spring Squam. For those of you not there, some of what I said included these words:
We are partnered with each of you to make this maker space and all maker spaces safe, vibrant and inspiring and welcoming places that intentionally cultivate belonging for all. Right now, behind the scenes, there is tremendous energy and activity as we work with BIPOC and LGBQTAI makers to ensure our 2020 teaching roster is rich and fully represents the diversity of makers in our community.
Ensuring that Squam events are accessible, diverse and inclusive is only one piece of the work we are doing so I would like to add on to those words because, although it is not time to share everything that is underway, I do want to let you know about a few of our key initiatives. As much as I am someone who likes to present things when they are finished, sometimes it is equally valuable and instructive to see the work in progress.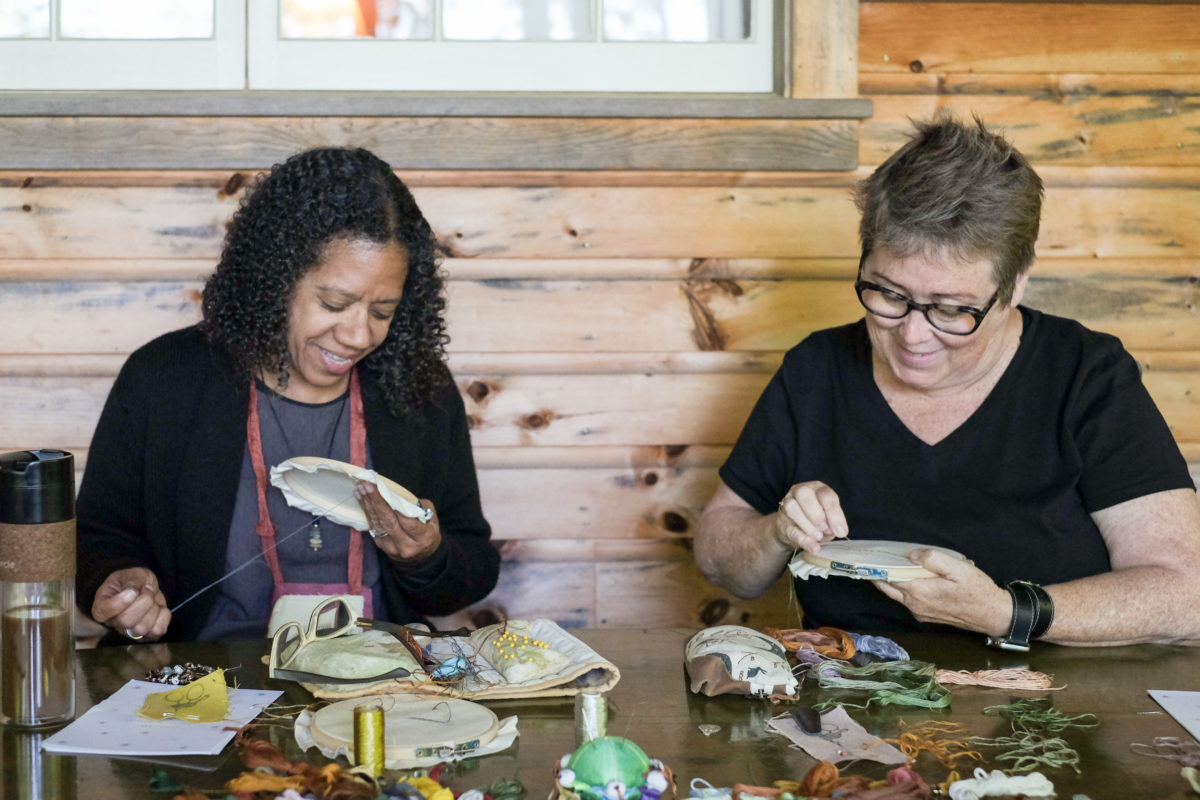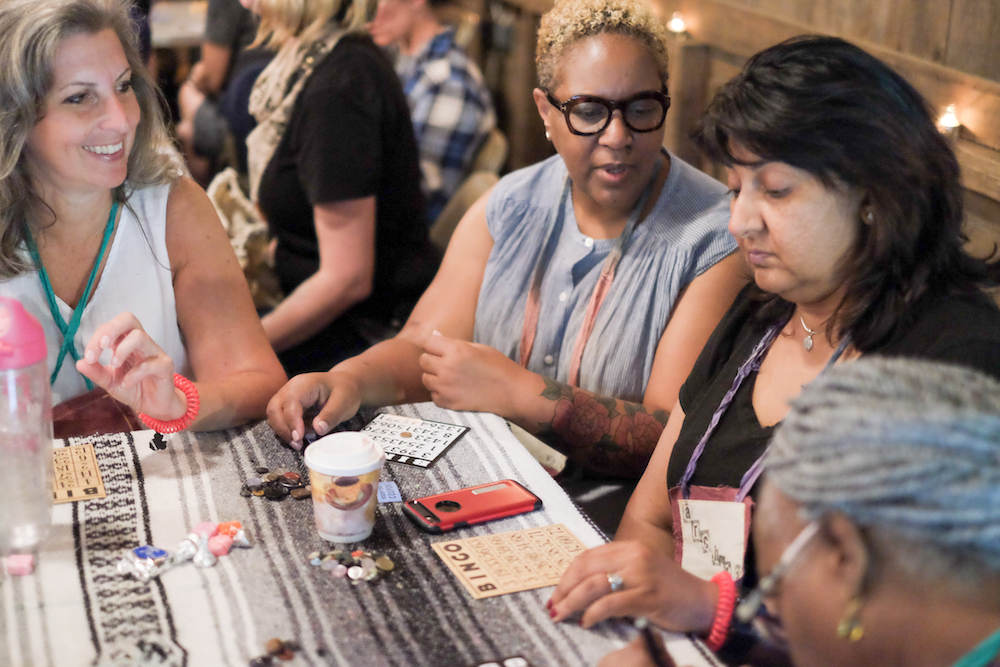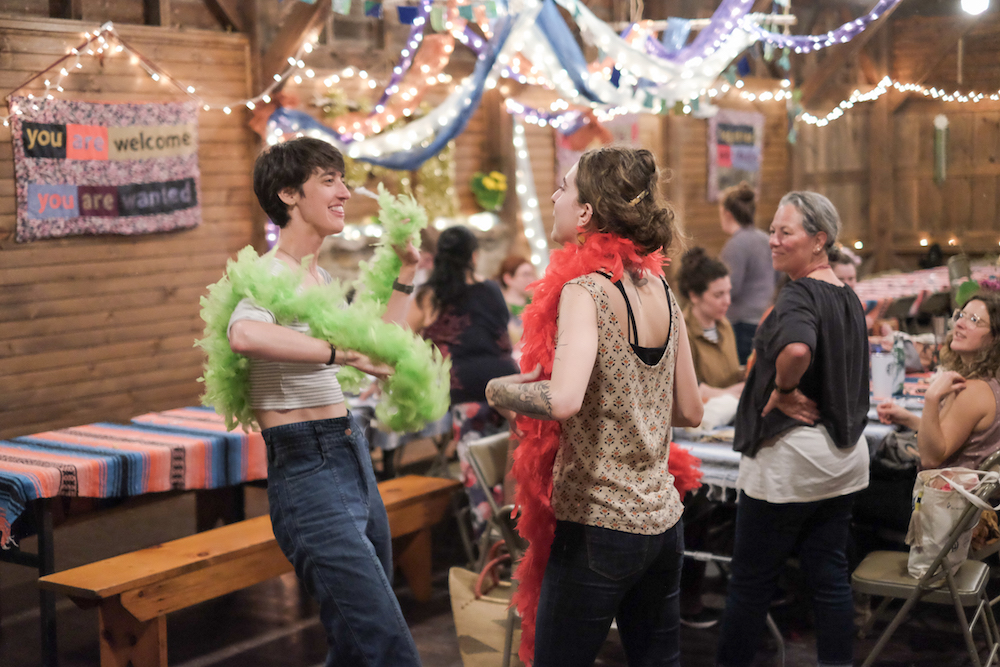 As you know, I have the extraordinary good fortune to be working with Meg. Her gentle heart. Her unflagging work ethic. Her focus. Her dedication. Her joyful energy. All of it and so much more has taken the organization of running these events to new heights. Without her, there would be no Squam (I was stepping down in 2017) and yet, today, more than ever, I am so grateful that she had the courage and vitality to step in and keep it going as I am buoyed by the possibilities that Squam has to offer in terms of building community and nurturing spirit in a world that is filled with such madness, sorrow, heartache and destruction. Creativity, light, and community are definitely part of the antidote.
We began last summer with a stated goal: to bring a focus on our Instagram feed to diverse makers; to support leaders in the community with the creation of a Maker in Residence program (see below)– and to do better than I had in previous years of having BIPOC and LGBQTAI makers on our 2019 teaching roster. Despite our invitations, we did not increase our numbers from years past. Although our invitations were warmly received, the reason why they were declined were the same as we often hear: doesn't fit their schedule for family or work reasons. As a result, we did not have the representation we had planned for. This was disappointing and we resolved to do better, but it wasn't until the discussion that began mid-January around inclusion and diversity which became a central focus for all of us in the creative community (as it has been ongoing in the world at large), that Meg and I understood the gravity of this gap and that it wasn't enough to try and not succeed.
We had to make this the number one priority for Squam and bring all of our energies to it. Anything less was unacceptable. We sat down with singular focus to work out an action plan for the year ahead so that there was no possibility that we could fall so short of our goals again.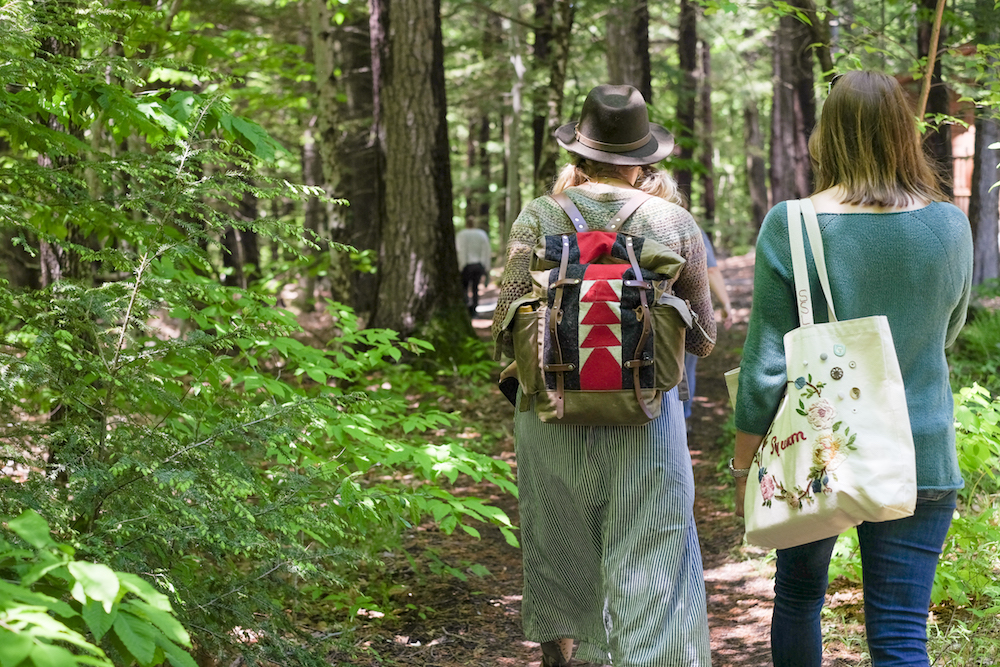 We immediately established concrete goals for our 2020 teaching roster that we are committed to reaching, to ensure a more diverse, representative and wholistic perspective which will expand and enrich the Squam experience.
We spent a great deal of time discussing how best to support and amplify the conversation. The events up at the lake are by their very nature isolated, limited in number and difficult to reach. The very last thing we wanted to offer was something that appeared exclusive. Our goal was to create a safe space that was public, accessible to all (both in terms of day/time and location), grounded in wisdom with a panel of makers who can speak directly to the ways the poison of racism permeates our culture and help to both expand awareness and create initiatives that will promote healing and growth. And, to ensure the conversation addressed issues of inclusion and accessibility across the board so that this discussion was welcoming to every person who wanted to join in. Most importantly, we wanted it to be helmed by someone trained and experienced in facilitating conversations around diversity.
We reached out to Virginia and Noah of Gather Here and asked if they wanted to partner with us on this plan and they responded with a very strong YES. And so Stitched Together was begun.
Stitched Together is designed to be an open conversation (with a schedule but no set agenda) so there is no telling what will come of it, but in my experience, when you bring people together to find commonality and shape a path forward, good things come out of it and I trust there will be a number of initiatives that surface during Stitched Together that will be incorporated directly into Squam and featured in future events.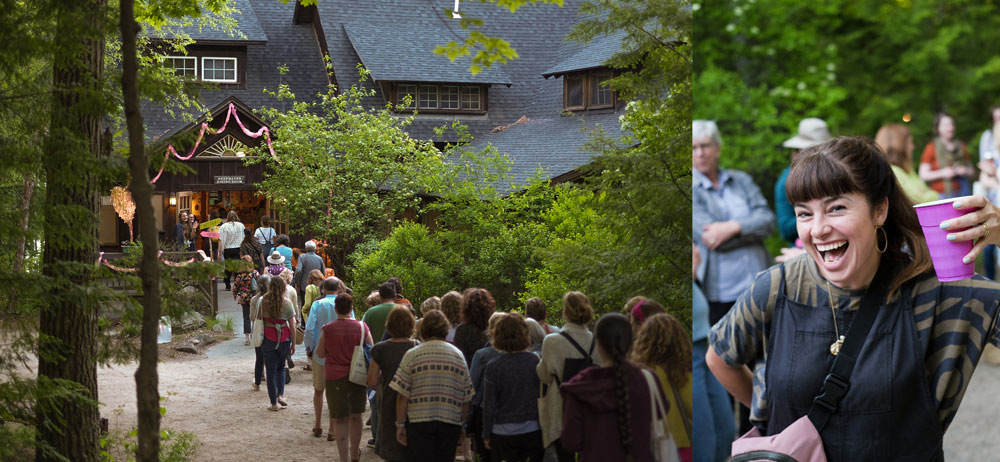 The creation of Stitched Together was deeply exciting to us and we were gratified by the strong and warm response it received. However, Meg and I were already pressed to the margins as a two-person team running three events (over 400 people total for 2 five-day gatherings, two art fairs, and one full week gathering) plus both Meg and I have both have personal creative projects that we are committed to — so adding in the planning and making of Stitched Together something had to give.
As Squam has always been an in-person experience and its online presence has been secondary, our decision was to forego daily/weekly updates on social media and to consolidate our offerings there to a bi-weekly newsletter. Of course, we could not know how this decision would be received, but we have been delighted to get wonderful feedback and see the number of people on the distribution list increase significantly and continue to increase with each passing week. We have never had any pop-up newsletter ads on our site, so this means people are actually taking the time to sign up and that is more than we could have hoped for.
We close out every newsletter with an invitation to write to us directly, share thoughts, ideas, feedback, news and events– so that we can share all of that in future newsletters.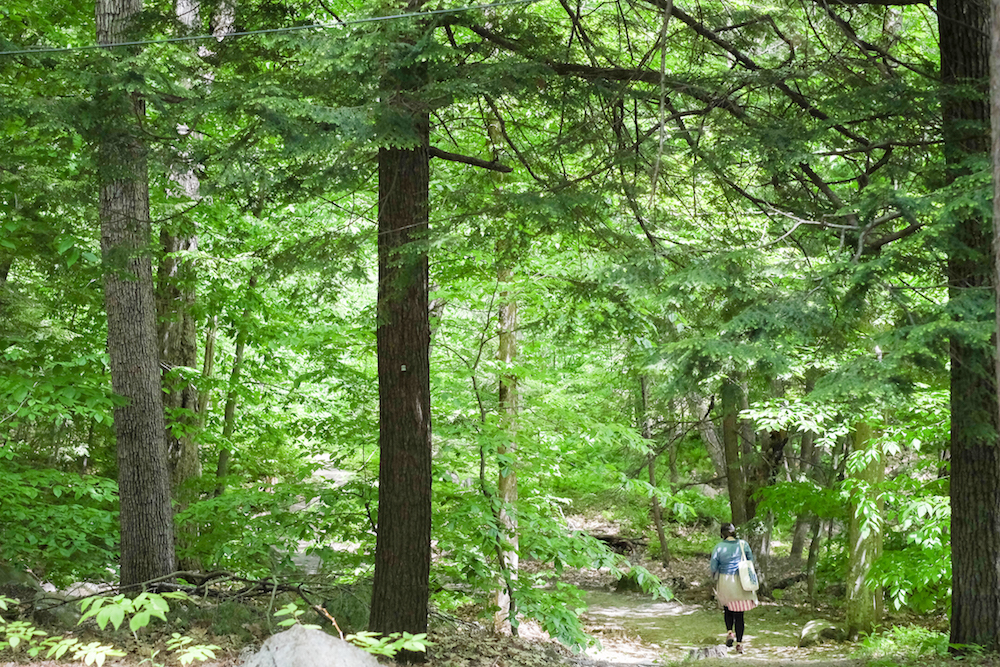 MAKER in RESIDENCE
*sigh*
As I mentioned above, last Fall Meg and I created a program designed to support and offer focused creative time to leaders in our creative community. When we launched in December we announced our Spring Maker in Residence with the intention of announcing our Fall Maker in Residence mid-January to allow each of them to have a spotlight. However, when the conversation around racism, a lack of diversity in the knitting community and a host of other issues surfaced, we decided to postpone our announcement of Ruth Forman, our Fall Maker in Residence as we were concerned it could be misunderstood as a reaction to the conversation and I would not want any energies to land on her that could tarnish her experience. So we decided to wait until after the Spring gathering.
Then, a month before our Spring gathering, Karen Templer, our Maker in Residence, in the spirit of passing the mic to a maker of color, passed her spot on to Jewell Washington, the co-founder of Our Maker Life. We were in full support of Karen's decision and thrilled for Jewell who had already been planning to come for the long weekend, but now would be able to attend the entire event. And then, life happened.
Something I did not speak to on Wednesday night or at any time during the five days we were together at the lake was why Jewell Washington, who was going to be our first-ever Maker in Residence, was not in fact present at the lake. I am embarrassed and chagrined that I did not make a public announcement as I should have. Instead, what I was focused on was trying to keep from adding to Jewell's pain and disappointment for having to cancel at the eleventh hour. I knew it was a work crisis that caused her plans to crash, but I wasn't sure how to speak to it since it was personal and I respected her privacy and her own autonomy to share, which she hadn't yet.
I am so sorry. I did a disservice to the attendees by not saying anything. Sometimes, the best path forward is not always clear. I did not do right by the group at large, but when I spoke to Jewell about it she said to me, "Elizabeth, I am grateful for you thinking about me and protecting my privacy until I was ready to share. The way things went down made me feel helpless and I was distraught and needed time to process." So that is the update there.
My hope is that the Maker in Residence program can survive this rocky start as I feel it is a true boon to the leaders in the community and I, for one, am beside myself with excitement to welcome Ruth to the lake in September. So if you could say a healing prayer for me on all that, I would appreciate it.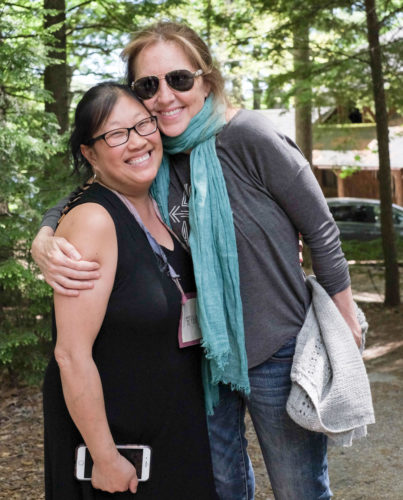 Speaking of passing the mic . . . failing to address why Jewell was not with us at the lake, is not the first time I have stumbled and it surely won't be the last, and so back in March, I reached out to Mindy Tsonas to see if she would be open to stepping into a leadership role at Squam. Both Meg and I love the energy and joy that Mindy brings to her work and we felt that Squam would flourish under her leadership and guidance.
It was our plan to announce this in January 2020, but guess what? You are hearing the news today! One of the big changes happening is that Mindy Tsonas will be taking on the role and responsibilities of Executive Director of Squam. Woot!
We wanted to keep this quiet until January for two reasons. One, so that Mindy could be engaged with each of you and get a fresh perspective and that people would get to her know her for herself separate from any 'role.' Two, because we are an annual business and there is a great deal of training and hand-off that needs to happen in the next six months as we make the transition.
However, Meg, Mindy and I have decided that given the need for transparency, it would be best to share it now so you can all join in the excitement with us that Mindy is on board– and wow, does she have great plans, ideas and initiatives underway.
In the weeks and months ahead you will learn more about Mindy and the richness of her life experience as well as her work in the world for which Squam has been a constant and beloved presence. From dreaming of the lake in her Squam Journal, to finally attending in the fall of 2012, then on to help with creating the magic of Squam in the City and later running the lakeside events, Mindy's creative and personal journey is deeply rooted in Squam magic.
As a Korean adoptee also deep in the work of her own reclamation, navigating motherhood and marriage as a queer counterpart and finding her true voice and purpose in it all, Mindy's focus on using creativity as a pathway for connection and healing in the realms personal growth, identity and body positivity, became clear.
Mindy's core belief is: your life IS your impact. Her mission is to always to create more belonging, more love.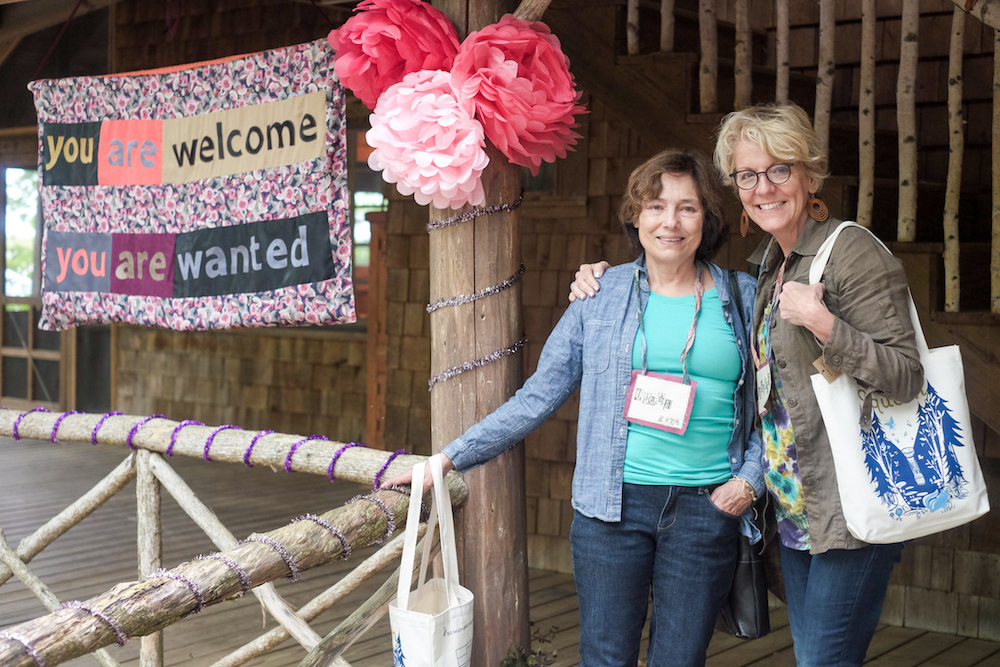 One of the key initiatives that Mindy and I have put at the top of her list is to create an Accountability Board for Squam. The purpose of this council is to ensure a broad sweeping overview of Squam's accessibility, diversity and inclusivity – to make sure that our best practices are in full alignment with our values which is that Squam Art Workshops is open and welcoming to all. Board members will be invited from the BIPOC and LGBQTAI maker communities.
Mindy dove into this project immediately following Spring Squam and will have some exciting updates to share in the weeks ahead including our intention to clarify that going forward, the focus of our Maker in Residence programs will be on leaders in the BIPOC and LGBQTAI communities.
What I have shared here is just some of what we have underway. For example, we are also exploring ways to bring the Squam experience to areas that are already rich in diversity (unlike the woods of New Hampshire) but at this time, I have to ask for your trust and patience so we can have the time and space to develop our ideas so that they might have the incubation they need in order to blossom into fruition.
Squam has always been a place where friendships and connections flourish. I hold the vision of it growing and expanding so that those friendships and connections are richer, deeper and more compelling than ever before.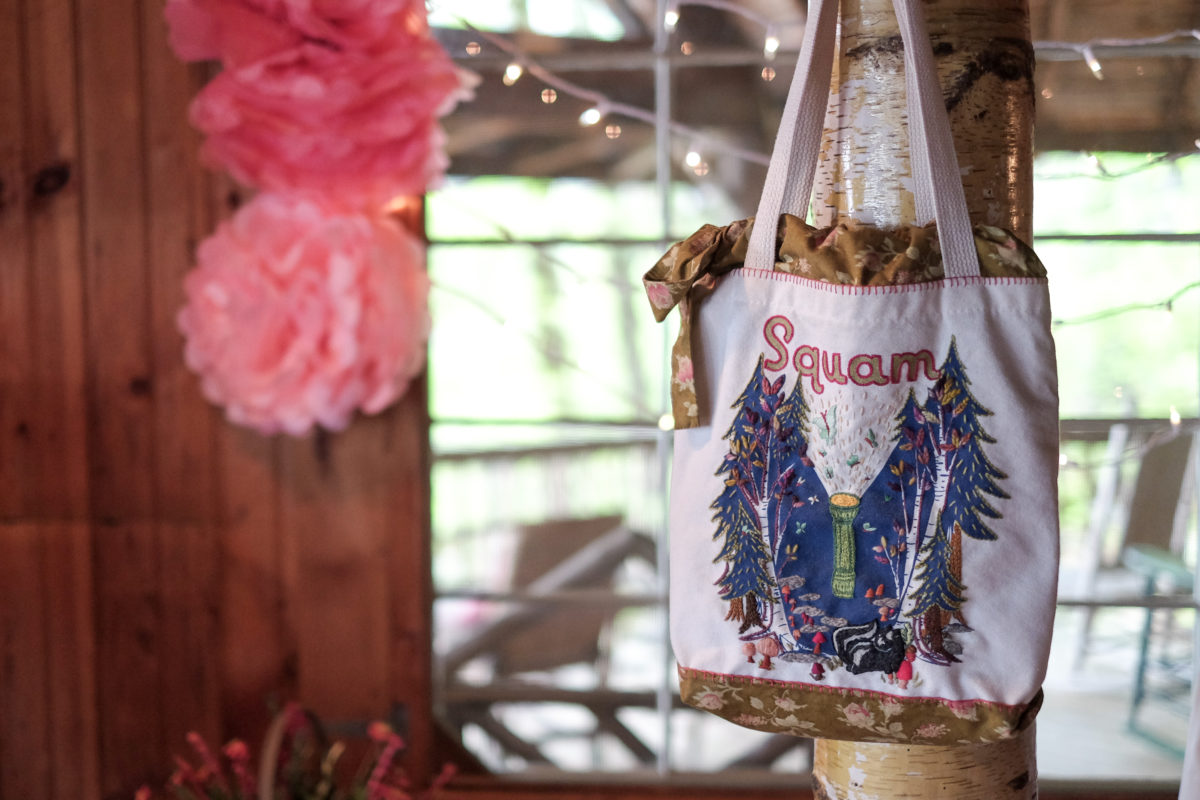 And, please forgive me for going off trail a bit here but I simply must make a big shout-out to TERRI DAUTCHER who is the maker who embellished the insanely gorgeous bag in the photo above and who stitched every one of the beautiful banners in the photos above with so much love and heart I just can't thank her enough for the energy and grace she pours into Squam so please send her some thanks when you next cross paths with her. 🙂 Whew.
Thank you for holding space for me to share my thoughts. I am so honored to be on this journey with each of you.
bisous, Elizabeth
"When I despair, I remember that all through history the way of truth and love have always won. There have been tyrants and murderers, and for a time, they can seem invincible, but in the end, they always fall. Think of it–always."




                                                                                – Mahatma Gandhi
ALL photos above are from our June 2019 gathering and were taken by KATHY CADIGAN
*The title of this post is inspired by Kerri Kelly's words, "we have to move at the speed of trust."