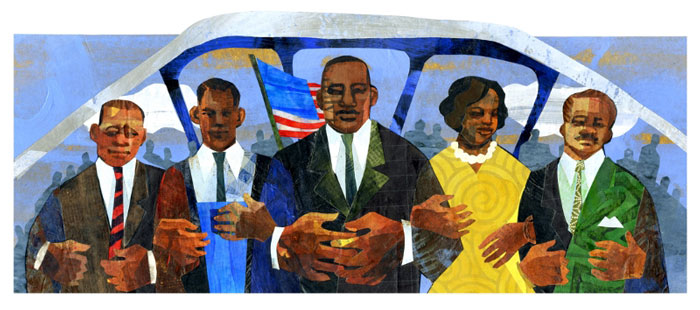 Last year on this day, it was thrilling to click on Google and find Ekua's spectacular painting Chain of Courage as that day's offering. This morning I share it here because Ekua has made it possible for each of us to purchase this beautiful, powerful artwork with the proceeds go to the United Negro College Fund.
"I chose to illustrate his successful march across the Edmund Pettus Bridge
because it captured the strength of spirit and leadership of the man.
It also acknowledges those who marched and put their lives on the line with him.
The linked arms and rhythm of the hands hopefully convey a message of collaboration,
strength, unity and determined action. This movement of hearts and minds
led to great changes in America and around the world. As we face the complex
social and racial challenges of today, we should look to this legacy for
encouragement, strength, strategy and inspiration." – Ekua Holmes
I woke up earlier than usual this morning– it was still dark out and four inches of snow had fallen softly to coat everything in gentle splendor. There was a feeling of freshness, renewal and hope as only the first snowfall can bring. The only reason I was out walking the quiet streets at that hour was I had to head to the YMCA to teach a yoga class. Not my normal Monday schedule. I was subbing for another teacher, but man, am I grateful.
Otherwise, I might have easily not had the opportunity to get so quiet and go within. Bring extra mindfulness to this day that commemorates and celebrates the heros and angels who walk among us. And it felt particularly sacred to me to gather with community — in the plain, most unglamorous yoga room downstairs at the Y — in reverence.
Then, after class, to step out into the sunshine – snow glittering and sparkling — to begin a most extraordinary, ordinary day with a full heart and some words from Thich Nhat Hanh that I had shared after savasana still floating in my mind.
"Loving kindness, compassion, joy, and equanimity are described as unlimited states of mind because they continue to grow and they cannot be measured. The more you practice, the more you see your love growing and growing until there is no limit. The more you practice compassion, the
more it grows. The more you cultivate joy, the more joy you will feel and be able to share.
The more you understand the more you love; the more you love, the more you understand.
They are two sides of one reality.
The mind of love and the mind of understanding are the same."
Thich Nhat Hanh, How to Love
I take comfort in witnessing the growth of love, compassion and understanding in this world. Yes, there is no shortage of cruelty, stupidity, horror and sorrow stemming from human evil.
I choose to focus on, and actively participate in, the steady forward movement, arms linked, hearts joined toward a shared vision of peace.
Blessed be.
bisous, Elizabeth
To learn more about the mixed-media painting class Ekua is offering next Fall, click here: PIECES OF A DREAM