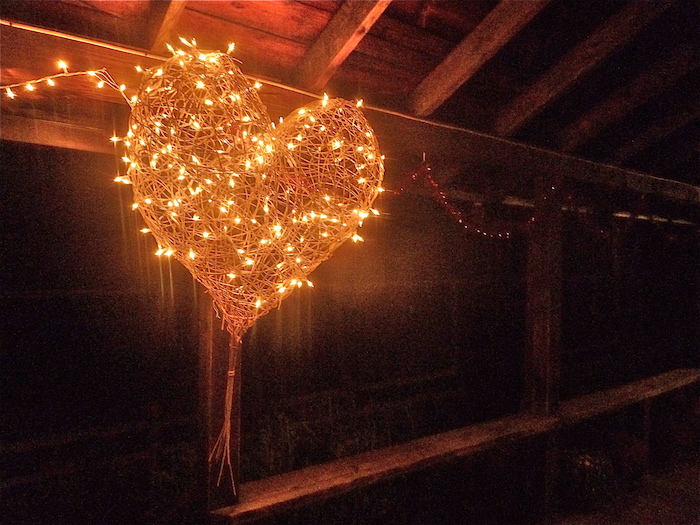 The past two weeks have brought much mail as registration season is upon us. Tucked in with the registrations are hand-knit hearts (thank you, Marney!), photographs, gifts and all sorts of love notes. To say this cracks me open wouldn't begin to explain how I feel. It's like that scene in the movie, It's a Wonderful Life where all the friends, family and neighbors come forward to fill the basket– without, you know, the attempted suicide or angel named Clarence.
Though, let it be known, there are most definitely angels in the mix. Most def.
This morning, I received a hand-written letter. I emphasize hand-written since, as you will read below, Catherine, the author, broke her shoulder and ankle in October and is only now in the phase of recovery where she can write with ease.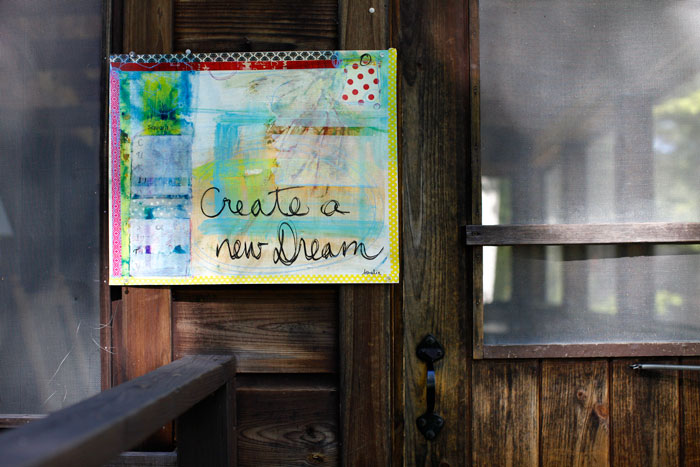 Dear Elizabeth,
It's a cold gray morning here in Chicago and I'm warmed by fond recollections of the fall Squam 2014.
I want to thank you for personally for welcoming me as I arrived late, in a tizzy due to flight cancellations. It was my first time at Squam- and you made me feel so welcome and relaxed as we drove to the dining hall.
I was touched by everyone's friendliness & kindness,
adored your welcome packet and wise instructions
for re-entry. Along with being in nature, the
entire session was deeply nourishing on many levels.
I am very grateful for my roomie. She is my new "bestie" and we are both returning for Fall 2015.
The motto you so artfully displayed (and created!) "Create a New Dream" and placard "we are all connected by an invisible thread" became personal touchstones for me.
I broke my left shoulder (of course I am left handed) along with my right ankle in October.
During my "forced immobility" and stillness, I meditated upon these 2 phrases. It helped with my healing – as did your spot-on Tarot Reading- Thank you! Most touching are the favorite memories of a bunch of women who had just met, sharing stories & laughter in front of a roaring fire, while hand stitching in Ann Wood's class and painting/collaging in Susa's workshop.
I carry these with me.
Thank you, Elizabeth! See you this Fall! – Catherine G.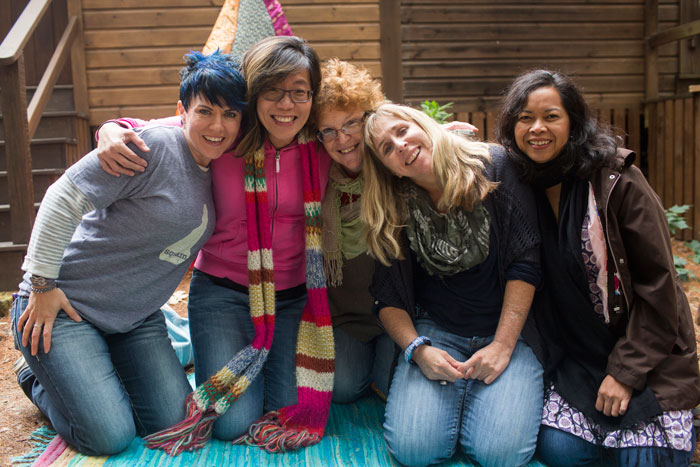 Oh my. As I went back into last Fall photos to grab an image to put with this post, I came across Amy Ambroult's recollections from that same session and man, it just brought it all back to me.
"Everything you think about Squam is true: Simple, rustic cabins.
An overall scent of pine needles. Twinkling lights. The earthy
smell of so many crackling fireplaces. Postcard-pretty dock and
lake views from every cabin. It is woodsy perfection.
It's even better than you imagined, but you know what?
This is not at all what makes Squam, Squam.
Of course it's the people, who make Squam what it is."*

Amen, sister. Amen.
bisous, e
* You can read Amy's full recap HERE.