Journey of Stitches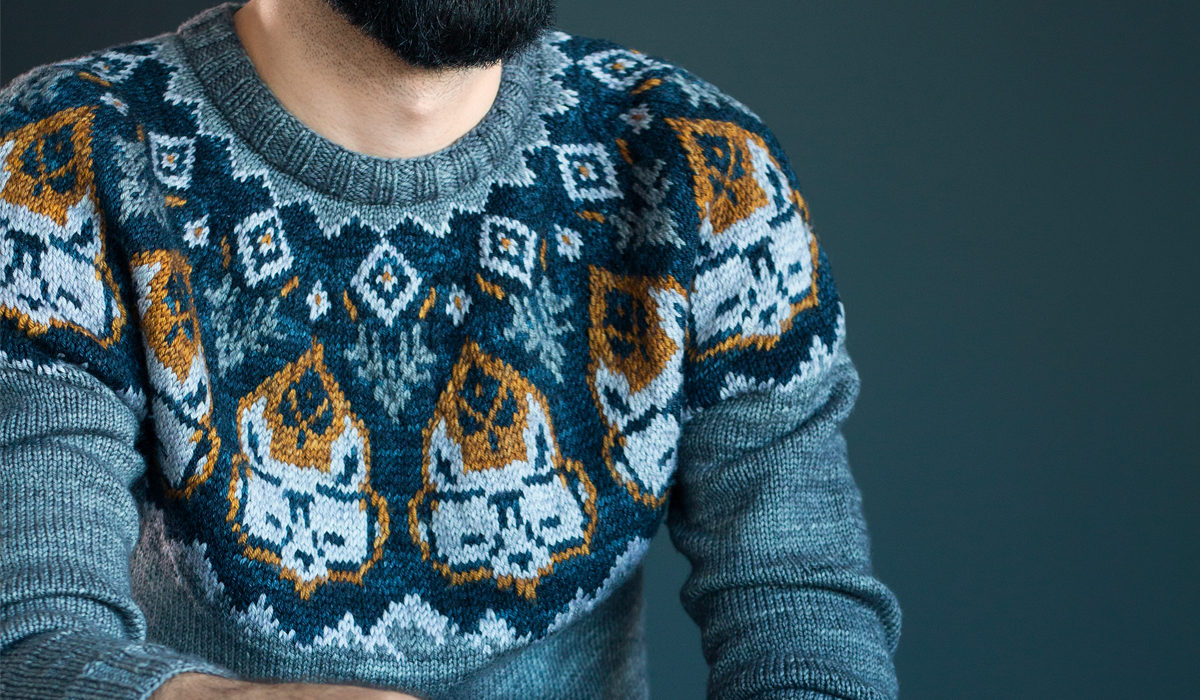 Offered:
Thursday June 4th
Friday June 5th
Experience level: Intermediate to Advanced
If you have been having the dreams, the ideas — if you have found yourself squirreling away little notes here and there as the image and elements of the sweater yoke YOU most want to create has fluttered around your head like a happy butterfly, then this is the class you have been waiting for: Max and Vincent are going to help you design your own modern, graphic colorwork yoke. Yes!
As in all truly original creative endeavors,
the key is to identify something that represents how YOU feel–
something that resonates with you deeply, that has
either emotional significance or personal connection for you.
In this experimental knitting workshop, we will take inspiration from the natural environment to find shapes and visual elements as the starting point. Or, you may also choose to use predesigned illustrated elements that Max will have on hand to create a unique colorwork yoke. This yoke will be inserted into a sweater template pattern provided. Of course, if you wish to place your yoke into a sweater pattern of your choice, that is also possible.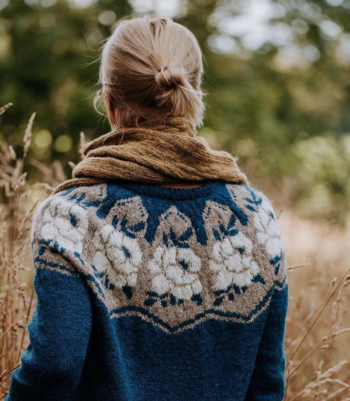 The morning will begin with a review of essential theoretical content with regard to stranded colorwork. This baseline in both the importance of texture design as well as colorwork design, will give everyone in the class the tips and tricks on how to design a yoke that will knit up beautifully every time. Once everyone has got the basics, theory will quickly give way to the best part of all: creativity and practice.
Weather permitting, we will take advantage of the exquisite lake and mountain setting we are in and head out into the woods to get a bit more inspiration for our perfect yoke. After our walk, we will settle in to build our yoke chart– drawing from the morning's explorations and then? Oh happy day, it's off to swatching and watching as our pattern emerges just as we dreamed it would.
photo credit: Lotta Lothgren of her version of Max's Once and Floral Sweater
PLEASE NOTE: this is an advanced class. Students need to be comfortable with the following:
Knitting in the round
Making basic increases and decreases
How to make and understand your swatch
Previous experience knitting a sweater (preferably top-down)
Previous experience doing stranded colorwork in the round is not required, but strongly encouraged.
Kit fee: 16 USD
Materials:
CLICK HERE
for downloadable Materials PDF.