Modern Heirloom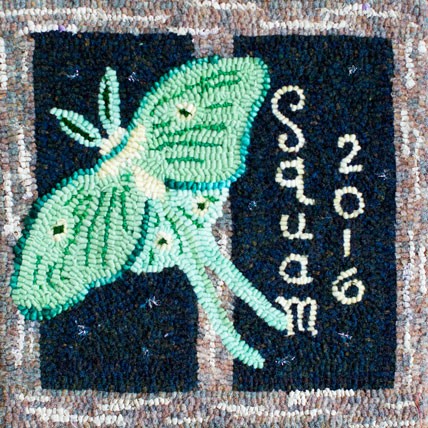 Offered:
Thursday, June 2nd - CLOSED
Friday, June 3rd - CLOSED
Saturday, June 4th - CLOSED
Experience level: All Levels
In this class, we will be creating a 12" x 12" hooked table trivet. My thought as I designed the pattern was to capture a little of the natural beauty, restfulness, and renewing spirit of Squam. The hope, of course, is that in addition to learning the specific delights of rug hooking, this class will provide you with a cherished souvenir for you to bring home that will always remind you of your time by the lake.
You might not be surprised that what I hear most when demonstrating rug hooking (especially in New England) is: "Oh, my grandmother used to do that!" or, even better, "I did that with my grandmother, but I just never continued."
What I love about rug hooking is that it brings this legacy into the 21st century. Even if no one in your family ever hooked rugs, I encourage you to start the tradition for yourself. It's so satisfying.
Some of what we are going to cover in this class:
basic techniques for pulling loops/ hooking letters & numbers
color planning/choosing wools/materials based on texture/color mottling
tips for designing and transferring patterns onto backing (for those who will want to design your own going forward – because you know you will want to! 🙂
steaming/blocking a completed piece
basic technique for finishing (twill tape binding) with discussion of other finishing techniques
Kit fee: 15 USD
Materials:
You will need to bring a small pair of scissors. Embroidery scissors are perfect. You might also bring a small container, maybe the size of a tea cup. It can be made of anything – ceramic, knitted, felted wool, cloth – it doesn't matter. Kit Fee includes:
A specially desgined beginner pattern hand drawn on the grain on unbleached primitive hooking linen.
An assortment of colorful wools and other materials for the actual hooking.
A basic rug hook (although if you have a hook, feel free to bring it along, especially if it has a family history!)
A fabric cutter with a variety of sized cutting heads (imagine a pasta machine for wool).
Sturdy and easy to use hooking frames that may be returned, borrowed to take home, or purchased at the end of the retreat.
Flannel frame covers to borrow for the duration of class or purchase (you'll see why these are helpful…)