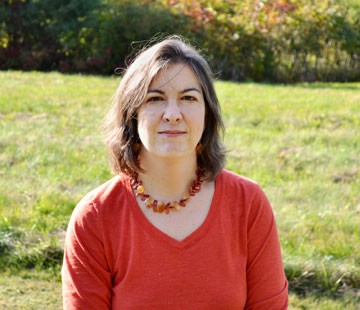 (Beth came to Squam last June. You can read her BEAUTIFUL write-up HERE where she shares what it feels like to step into these woods for some time away from the hurly burly of life).
Beth began rug hooking shortly after the death of her mother as she was in search of a centering, healing, and creative art form. She was not disappointed. On the contrary, it has become central to her creative life.
Beth co-founded Parris House Wool Works with her friend and business partner, Jennifer Cahill. Parris House Wool Works is a studio for all things rug hooking with a mission to perpetuate the craft into the next century through teaching and public outreach. The company also has a line of hooked home decor items available through the Beekman 1802 Mercantile, was a wildcard finalist in the 2014 Martha Stewart American Made Awards, and is a member of Maine Made: America's Best.
Beth is a member of the Association of Traditional Hooking Artists, the Tin Pedlar ATHA Chapter, the Green Mountain Rug Hooking Guild, the Nova Scotia Rug Hooking Guild, and the Etsy Maine Team.
She teaches this heritage North American craft to many people who, like her, have found its quick learning curve and spontaneously creative nature compelling. She encourages students to be open-minded and playful with techniques and materials, to design their own soul inspired patterns, and to explore the full breadth of expression that this craft so easily accommodates.
Beth teaches hooking workshops at the Sabbathday Lake Shaker Village in New Gloucester, Maine, home to the last living community of Shakers, in other local venues and in her studio in Paris.
She is also a Registered Maine Guide.
Beth lives with her husband Bill, her Corgi, Tru, and big orange tabby, Tesla in their 1818 Federal period home, The Parris House, in the village of Paris Hill, Maine. Her four grown sons are the light of her days.
Beth and Bill also spend time at their cottage, Sunset Haven, on Little Sebago Lake in Gray, Maine. In Paris, they keep chickens, have a large organic garden, tend to the apple trees, and enjoy the spectacle of the Maine seasons.