Hook What You Love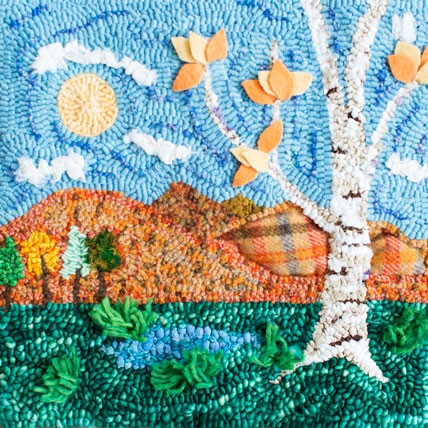 Offered:
Thursday, June 2nd - CLOSED
Friday, June 3rd - CLOSED
Saturday, June 4th - CLOSED
Experience level: Intermediate
Hook what you love, love what you hook!
It is my belief that creativity and imagination are at peak levels when you are inspired by what you are creating.
Maybe there's a place on this earth that is sacred to you. Perhaps you have a cherished home place, or an animal in your life who brings you joy. Start thinking about the endless possibilities and bring that vision to class with you, along with some pictures!
Also consider hooked interpretations of Squam and the RDC grounds; you can hook a scene en plein air outside of the classroom!
The example in the photo is the view from my studio window in Paris, Maine at peak foliage season.
The birch in the foreground is one of the oldest and largest I've ever seen, but she hangs on through the seasons and the storms that come over the Mahoosuc range in the foreground, and the Presidentials in the distance. The little farm pond brings peepers every year to announce spring.
This view embodies the rhythm of the seasons and my life in New England.
I sketched just the rudiments of this scene on the linen and then free handed it to completion, using wool strips, recycled sari silk, yarn, and wool fabric. It's simple and primitive, but you may opt for as primitive or refined a style as you desire.
Prerequisite: This class is for students who have hooked before at a beginner level and are now ready to learn some new techniques. A basic knowledge of and experience in fundamental rug hooking is required. This is a great continuation for students who took the Modern Heirloom class last year, and feel confident in the skills learned there.
Some of what we are going to cover in this class:
Getting your vision on to linen, either via sketching your design and transferring it, or blank linen and free hand hooking (think doodling with material)
Proddy
Very basic wool applique for incorporation into hooked pieces; if you are an experienced embroiderer or stitcher, bring your skills to hooking!
A variety of techniques to add texture and dimension to your loops
Whipstitch binding with wool strip, yarn, silk, what have you (optional – you may choose a different binding technique)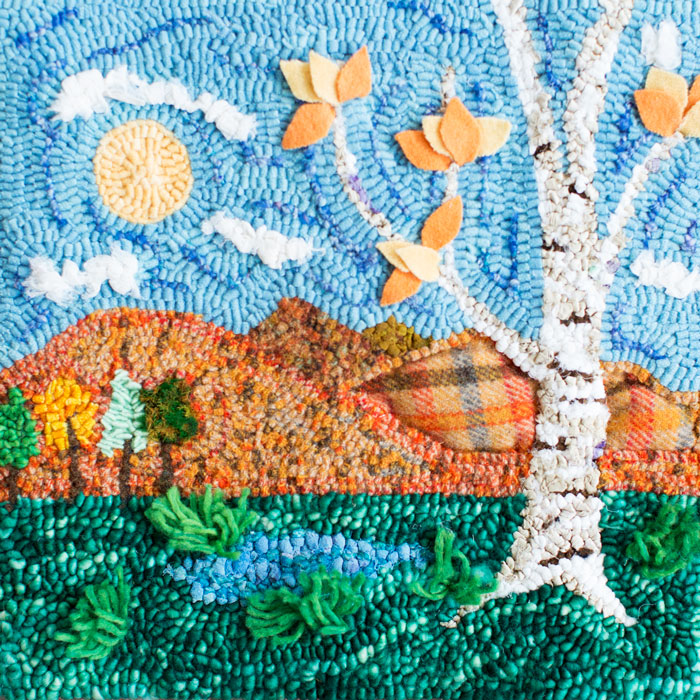 Kit fee: 20 USD
Materials:
Small pair of scissors – embroidery scissors are great
If you already have a hook and frame you like to use, bring those. If you are flying and do not want to bring a frame, I will have frames available.
Small container for your fabric/yarn snips
Pictures of places, animals, whatever you can imagine, that you love and might want to hook
Any kind of unique fabric or material you might want to incorporate into your design, perhaps that has special meaning to you, although I will also have a materials buffet for you to use. Does not have to be wool (but can be)! Think yarn, silk, ribbon, tee shirt material, flannel, quilting cotton, roving/batting, even colorful plastic bags (yes, I said colorful plastic bags…). If you can strip it or twist it, and it will hold together, you can hook with it.
Kit Fee includes:
Serged piece of linen on which to draw a 12" x 12" (or possibly another size to your liking) pattern/sketch.
An assortment of colorful wools and other materials for the actual hooking.
A basic rug hook for those who may not have brought one.
Access to a fabric cutter with a variety of sized cutting heads (imagine a pasta machine for wool).
Sturdy and easy to use hooking frames that may be returned, borrowed to take home, or purchased at the end of the retreat.
Flannel frame covers to borrow for the duration of class or purchase.