Art is Process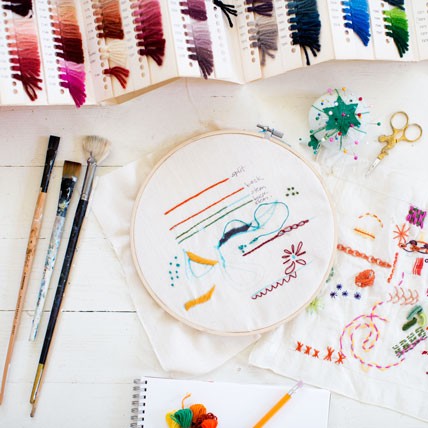 Offered:
Monday, Aug 29, 2016
Tuesday, Aug 30, 2016
Wednesday, Sept 1, 2016
Experience level: All Levels
All too often we head into the process of making something burdened with expectations, pre-determined outcome or not knowing how to begin at all and other sorts of barriers. This class is going to help break us out of that approach to creative self-expression.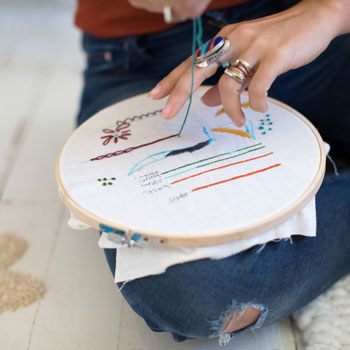 By following where our process leads us, we find our answers, and not the other way around.
We will explore some fun ways to get ideas surfaced and then how to flesh those ideas into a vision. We will do some writing, meditation and brain mapping exercises to identify what is most important to us as individuals in the process of making.
From these ideas we will look at personal materials; textiles, photographs and words to start to develop a focus to how and what we make.
This is not just a class about textiles, the textiles are in service to the process of creative exploration.
We are gonna go wide and deep.
In the first half of class, we will play with cyanotype which lends itself to many applications.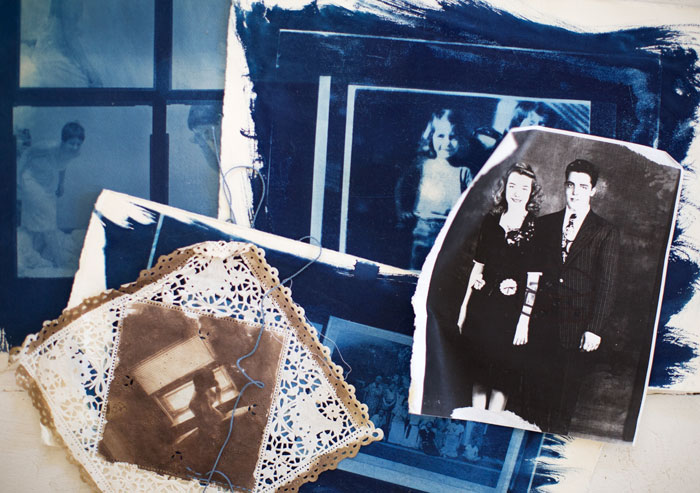 Cyanotype is an alternative photographic process that can be applied to many different materials. It is great with rag papers and natural textiles as it delivers a gorgeous, soft photographic effect. This work will be a great starting point for the rest of our day.
We will play with stitches and applique and explore the process of drawing with textiles and other materials in a variety of ways.
When you leave this class, you may or may not have finished pieces, but you will have a fresh and sustainable approach to nurturing and developing your creative voice through the process of making. Our time together will ignite the source of inspiration unique to you and, you will have the tools to develop these ideas and personal iconography into finished pieces that are a true expression of your spirit.
No experience needed. This is a jumping off place for both experienced artists and straight-up beginners.
Large pieces of rag paper and vintage linens will be available for sale.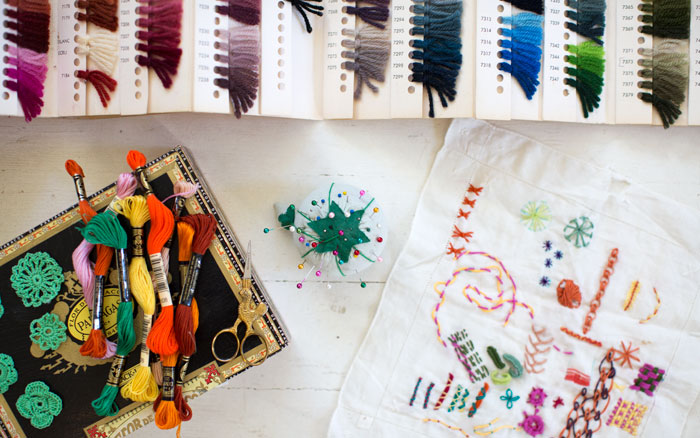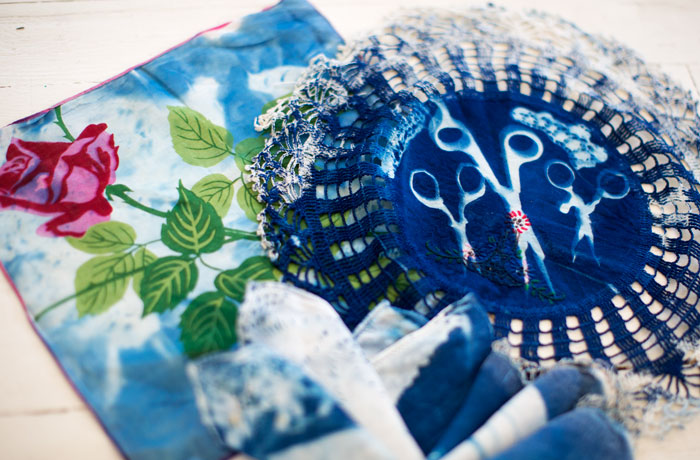 Kit fee: 20 USD
Materials:
Kit fee provides embroidery hoop, needles & pins, cotton dmc embroidery floss, friction marker, regular cotton fabric, rag paper samples, cyanotype emulsion, brushes, drawing supplies, tracing paper…
If you have found linens, or vintage textiles bring them along to work with or be inspired by.
For the cyanotype you need interesting objects to do photograms of (google it for inspiration) "negatives." The best way to create a negative is to create a black and white "negative" image of your photo to scale in a photo software program (photoshop is easiest) and print it out on transparency film (Staples.) It is best to have 2 of the exact same negatives in case you need to double up.
Bring embroidery scissors if you have them.