Squam Skirt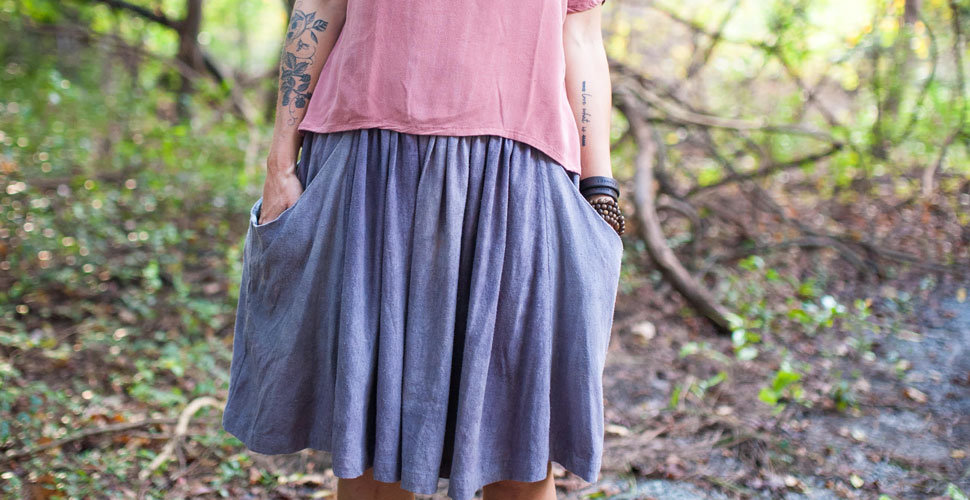 Offered:
Thursday September 13th
CLOSED

Friday September 14th
CLOSED
Experience level: All Levels*
Are you ready to rejuvenate your sewing mindset with a relaxed, self-care oriented day of stitching?
If yes, this is the perfect class for you*.
The focus of the class is on the construction of Meg's darling Gypsum Skirt pattern. We chose this because its simplicity is ideally suited to a one-day class and yet the results are anything but plain. This is a super fun skirt with roomy, crescent-shaped pockets, four skirt panels and an elasticated back.
Easy to fit and oh-so-comfortable to wear, you will love having this piece to reach for time and time again.
Plus, many of the techniques you learn in this class will serve you well for future garment making such as flat-felled seaming, which will give your skirt a made-to-last, professional finish. And of course, if you want to customize your skirt with embroidery or patchwork Meg is happy to help you achieve the exact look that you are going for.
There is a bit of pre-work for this class as you will be asked to arrive with your pattern pieces already cut and ready to stitch. No worries if this is new to you and that sounds daunting, Meg will be available for guidance to ensure you are in great shape to begin the class.
Meg's goal is that you sink in and enjoy the process of stitching without any need to rush. In the event that you don't get to the finishing touches by the end of class,  you will leave with everything you need to continue stitching happily once you get home.
*PLEASE NOTE: Beginning sewists are welcome — the only pre-requisite is a knowledge of how to use a sewing machine. Intermediate and advanced sewists will find their skills are honored and will appreciate the philosophical nature of the class.
Kit fee: 21 USD
Materials:
CLICK HERE for downloadable Materials PDF.