Marks, Magic & Meaning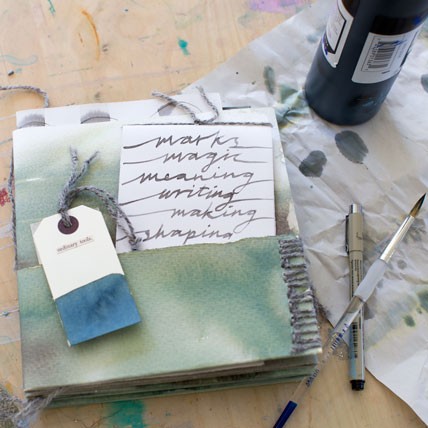 Offered:
Thursday, June 2nd - CLOSED
Friday, June 3rd - CLOSED
Saturday, June 4th - CLOSED
Experience level: All Levels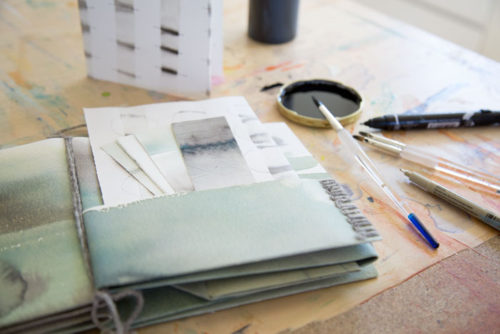 This class will be a liberation of ink and water, making a folded book form into a vessel for your stories.
After texturising thick watercolour paper with washes, brush strokes and gestural marks, we will create a structure with
pockets and valleys for tiny bindings
envelopes
letters
origami
pop-ups and postcards
Lines of words will meander over round and through the pages
we will incorporate strands of exclusive Iona wool.
You don't need any bookbinding experience; just an openness to experiment and trust the water to work its magic with swirls of ink. A series of guided exercises will deepen your confidence to produce a unique, sculptural, significant work of art.
Producing a book of your own is empowering and delightful: YOU choose the colours, scale, and each particular detail. Play with the composition of busy and spacious. Try developing your own typography.
Indulge in a combination of expressive calligraphy, creative writing, stitching, and pure paper love.
Fibre junkies: Knit or crochet your own wrap around book cover! Marks, Meaning and Magic is a transformative process from blank sheet to a magical unfolding bookart world.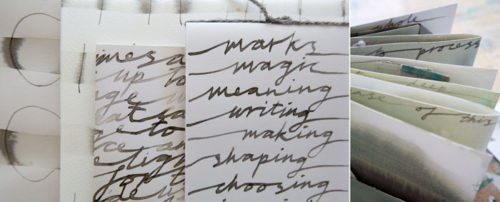 The kit fee includes:
Ink
thick watercolour paper
various papers
thread
needle
notebook
labels
envelopes
ephemera
twig brush
a dip pen
and a length of Iona wool in a special goody bag.
Kit fee: 20 USD
Materials:
Please bring a cutting mat, scissors, metal ruler, pencil, favourite paints/calligraphy pens/wool/rubber stamps
Some paper ephemera such as maps, photographs, letters and an old book to cut up.
Apron – optional.