Soxpertise: Better Socks!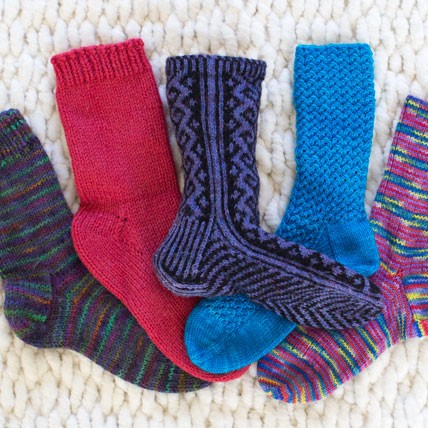 Offered:
Friday, June 3rd - CLOSED
Saturday, June 4th - CLOSED
Experience level: Intermediate
Let's talk SOCKS!
There are some terrific ways to take your sock knitting to the next level and in this class we will focus on these practical skills so that your sock knitting improves and, provides you deeper satisfaction.
What will be covered:
sock sizing and fit
how to properly measure your foot
how make sure you're making the right size (even if you can't measure the foot!)
how to adapt a pattern for a custom fit.
an exploration of top down versus toe-up: why you might choose one direction over another, and how to convert a pattern to the direction you want to work.
problem-solving and addressing frequently asked questions like how to avoid holes at the top of the heel, and how to make a tidy gusset pick up.
different needles: DPNs, magic loop, two circulars.
best yarns for sock knitting: what to look for, what to avoid, and how to choose a yarn for the wool-sensitive
proven tips to ensure your hand-knit socks last as long as possible, through reinforcement and care.
Bring your sock questions and problems! We will cover it all.
Pre-requisite: This class is designed for knitters who have made a least a couple of pairs of socks and wish to expand their skills.
Kit fee: 0 USD
Materials:
Bring pen + paper
tape measure
any socks (or sock patterns) you have questions about