Drawn Together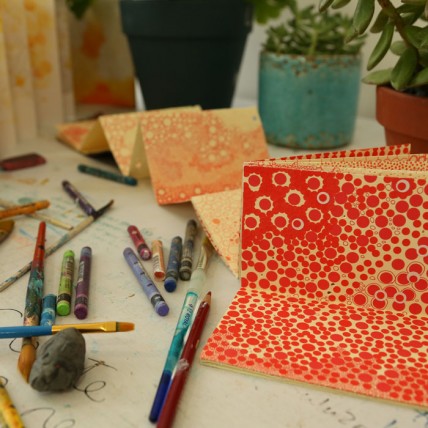 Offered:
Thursday, June 2nd - CLOSED
Friday, June 3rd - CLOSED
Saturday, June 4th - CLOSED
Experience level: All Levels
Drawn together is a friendly collaborative drawing class suitable for all abilities, so whether you're a complete (terrified!) novice, or a seasoned pro you will be made very welcome and supported to learn, achieve and develop your drawing skills and approach.
Following on from Kerry's successful previous class 'Drawn to Squam' this session will be full of the same fun and energy, with the focus remaining on developing your own personal drawing style. This time we will be working collaboratively as a group, learning from and with each other to share the experience of drawing at Squam. This class explores mark making using scissors, paint and pencil encouraging you to explore, invent and discover your own mark, the marks personal to you that only your hand can make.
We will be working in a range of beautiful concertina sketchbooks, exploring colour, line, pattern, watercolour, doodles, mono print, music and the paper cut outs of Matisse.
Each participant will be supported to work across a rainbow of colours exploring these new ideas and approaches to drawing. At the end of the session each of the sketchbooks will be suspended as banners and exhibited for all the Squam attendees. At the end of the retreat each person will take home their own sketchbook full of every participants drawings. A beautiful memento of your time at Squam, the people who shared your class and your own drawn journey throughout the session.
There will be lots of time for individual guidance and support, and each participant will be made to feel very welcome and valued in this special collaborative class.
Kit fee: 20 USD (cash only, please)
Materials:
Kit Fee includes ALL the materials you will be using during the class. Your completed concertina sketchbook, watercolour paintbrush and handouts are all yours to take home with you when the class ends.
2 pairs of scissors, one large and one small.
Apron
Biro/Pen (any colour)
Stack of cheap printer paper (approximately 30 sheets)