Collage Crochet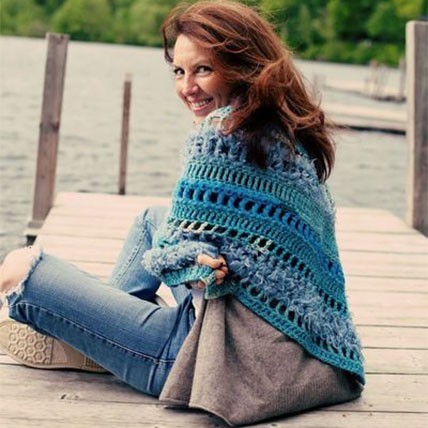 Offered:
Friday Sep 16 - CLOSED
Experience level: All Levels
Are you ready to play with hook and yarn like brush and paint? We are gonna do that! We're even going to experiment with some tapestry (colorwork) techniques. All you need to know are the most basic crochet stitches: chain and single crochet, and you'll be on your way to hooking up a magical wrap that will forever remind you of your time at Squam.
The beauty of crochet is that it lends itself so easily to a playful, freeform approach: mixing yarns, colors, textures and stitches can yield a new fabric every time you pick up your hook!
Cal will show you some simple shawl recipes for various shapes that can be adapted to all sorts of customization.
During this class, you will complete one (or more) mini shawl, which can either be continued and finished after, or used as a design swatch for a future project.
Kit fee: 15 USD
Materials:
If you want to simply show up empty handed and pay a $15 kit fee, Cal will bring experimental mini-shawl/swatch kits available to purchase (optional) if you'd rather not bring your own supplies. Or if you want to hit your own stash for the magic, please bring: At least 5 different yarns (varying textures/colors/weights) that you would like to mix and play with. Assorted quantities– even small bits– are fine. For a medium to large shawl, you'll want a total of 8 to 16 oz of yarn, though this can vary depending on the thickness of fabric, and size of shawl desired. You can either just bring small bits for your mini shawl/swatch and then acquire bigger quantities later, or have the full quantity for class. Also, best to have along a few sizes of crochet hook, medium sizes ranging from 4-6mm (F to J)