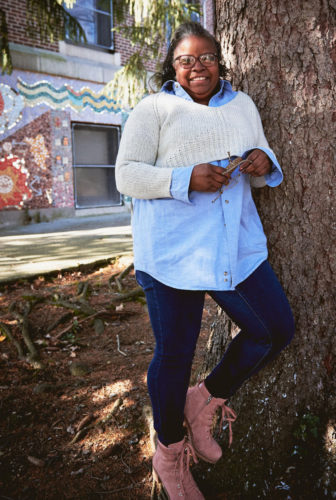 It is rare to find a photo of Theresa Hill by herself as she is usually sharing the spotlight with her students, her fellow makers or her family. For anyone who has ever met Theresa, you know her joyful radiance is irresistible. We are so thrilled she will be with us for our second June session this year!
Though you can often find her at Wild Hand bringing her sweet energy and support to people needing guidance with a knitting project (if she is not off mixing up another batch of her gorgeous yarns) wherever it is, you will meet a woman of remarkable strength who has taken life challenges and transformed them into energy and vitality.
She has been knitting since childhood and has spinning since 2014. Theresa is also a local fiber dye artist and teaches knitting, spinning, crochet, fiber preparation, and dyeing at local fiber festivals and retreats.
Theresa is a contributor to PLY magazine's advisory board and the owner of Ewe-Nited States of Fiber.
In addition to being a fiber artist, Theresa Hill is an ICU/ER RN, Army veteran and survivor.
She makes her home in Newark, DE with her husband and three brilliant sons.
You can find her on Instagram at:
@ewe_nited_states_of_fiber
@orionchika