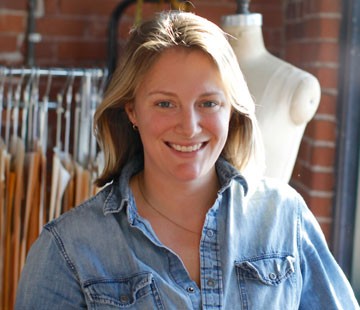 Inspired by her carefree childhood spent climbing trees (sometimes while wearing party dresses) and practicing the art of being a mermaid on Cape Cod, Sarah believes that clothes can be beautiful and comfortable, easy and whimsical, classic and modern.
Sarah is a professional clothing designer, you can see more of her work at SARAH WALDO ORGANICS
Sarah began design and production of her organic children's collection in 2005. After several successful seasons, Sarah transitioned from production of full, multi-season collections to a new line of custom flower girl and special occasion dresses.
Sarah's heirloom-quality pieces are designed with a European sensibility and are meticulously constructed by hand in New England.
Sarah received her BFA from Parsons School of Design and began her career at Ralph Lauren.
Sarah splits her time between her home and studio in Providence, RI and her childhood home on Cape Cod. These days, she spends most of her free time sewing and knitting for her young daughter, Emily.