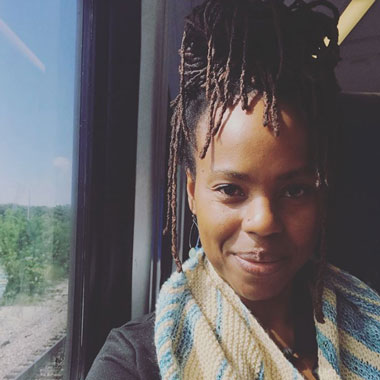 Marceline is a lover of all things handmade, living a life with Gratitude on MAX! She hosts The Hey BrownBerry Video Podcast on YouTube sharing knitting, crochet, spinning, design, natural dyeing and travel. You may as well start calling her Marce sooner than later, because her aim is to create deep connections and familiarity through shared creativity and inspiration in the Maker Community. The soulful stash yarn is a bonus!
Marce was born in Jamaica and raised in Canada, but now calls Florida her home. She started stitching seriously in 2005, and that sparked a passion for community connections in all forms (real and virtual) through fiber, fabric and flora. These have given her some of life's best moments so far.
Marce has designed a few patterns now available on Ravelry as a means to explore how powerful themes can be expressed in knitting techniques.  She's particularly fond of small canvas work, socks, hats, and shawls because they travel so well and give you quick gratification while you explore!
As a teacher, Marce has welcomed fiber friends to the wondrous world of tailor-fit sock knitting and creating handspun yarn on a spindle. She has given thought-provoking lectures and taught classes at the New England Fiber Summit, Vogue Knitting Live Columbus, and Vogue Knitting Live New York, as well as local yarn stores around the US.
Marce and her husband and two daughters are adventurers by nature; whether hiking, camping, visiting faraways countries, or even trying a new recipe, learning and sharing are at the center of it all.