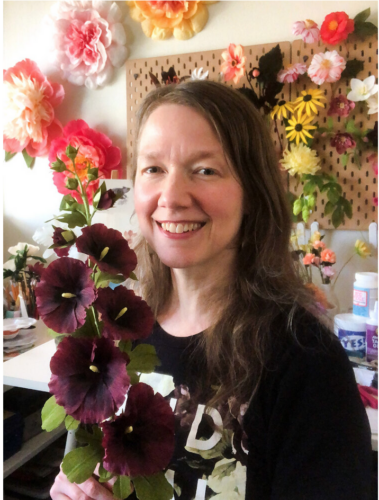 Inga Peterson is a Portland, Oregon based paper artist and instructor specializing in crepe paper flowers, plants, and insects.
She received a BFA in drawing and painting from the University of Michigan, and a BFA in industrial design from the California College of Art.
Her paper sculptures are a unique blend of craft, fine art and design, using hand painted details and intricately hand cut shapes to capture the natural beauty of botanicals.
Her tutorials and workshops have been featured with The Posey Box, Lia Griffith, Cartefini Crepe Paper, and the Mendocino Art Center, and her paper art has been shown in galleries throughout Oregon.
"Creating lifelike, highly detailed botanical sculptures from paper, paint, wire and glue is my passion. I love the magical feeling of starting with simple tools and materials and ending up with a beautiful, realistic, inspiring work of art. Each piece is crafted with great care, using premium crepe papers and professional grade paints, creating original artwork to be enjoyed by collectors and nature enthusiasts all over the world."