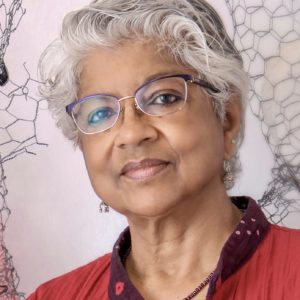 Public Art, Peace and Civic Engagement.
Award winning artist and educator, Indira Freitas Johnson's passion to make art part of everyday life and to involve local communities in the art process is evident in all her work. Influenced by an artist father and a mother who was a social activist, Johnson believes strongly that art and activism are a powerful combination for social change.
Born in Mumbai, India, Johnson received her undergraduate degree from the University of Bombay and the Sir JJ Institute of Art and her MFA from the School of the Art Institute of Chicago. She has been the recipient of numerous grants and awards, including the prestigious Illinois Governors Award for the Arts and more recently Chicago Magazine named her the 2013 Chicagoan of the Year.
Johnson's work has been exhibited nationally and internationally and is represented in numerous private and public collections including the Chicago Museum of Contemporary Art, Chicago Transit Authority, Rhode Island School of Design Museum, Providence, RI and the University of Illinois, Champaign, IL.
Ten Thousand Ripples, Johnson's current Chicago area Public Art, Peace and Civic Engagement initiative uses art as a catalyst for conversations about peace and nonviolence.
Visit her at: indirajohnson.com