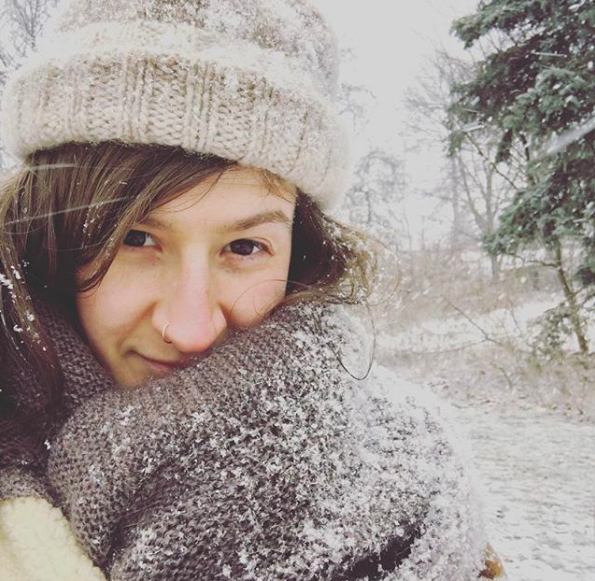 Colour curiosity drew Emily to knitting when she was in highschool. Through the window of a local knitting store, she imagined colour pairings and jumpers knit with the yarns in their display. Eventually, a job at the same Toronto shop supported the development of Emily's love of colour,  texture, woolly textiles and, of course, hand dyed yarns.
Emily and VIOLA have grown, changed and developed organically, from their beginning back in 2012. Attempting to move mindfully towards a deeper connection with and appreciation for the natural world and its cycles, VIOLA strives to depict the very subtle beauty that always surrounds us and to evoke a feeling of connection with and participation in those natural cycles.
Today, Emily and VIOLA make their home on the traditional territory of the Anishinabe First Nations Peoples in a little hamlet that is now called Mooresburg. Emily lives with her family and dog Lucy in a 100 year old general store, a large creaking building with a personality and mind of its own. Surrounded by rivers, fields and forest, Mooresburg provides a beautiful source of inspiration for VIOLA's colourways and a cherished connection to the wild and natural world outside.
Before moving to Mooresburg, Emily set VIOLA aside for three years while living in North Devon, England. There she worked for John Arbon Textiles in their traditional Worsted Spinning Mill. When she returned to Canada, she brought with her a valuable knowledge of wool growing and processing as well as a deep love of the sea, chutney and proper ale.
While Emily's knitting is usually close to hand, she also fills her time baking bread, swimming in the river beside her home (even on cold days), exploring local forests, drawing, painting and appreciating moss, rocks, trees and clouds.