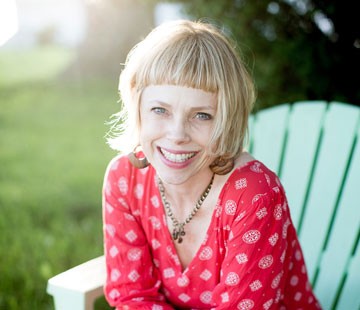 Colleen Attara is a mixed-media artist who discovers goodness in the pieces left behind. She is a storyteller, a treasure hunter and has designed a line of greeting cards and prints that are sold in stores across the country. Stationery Trends Magazines recently listed Colleen as one of the "Strong Women of Stationery."
Colleen creates artwork and public installations from reclaimed materials in her cottage studio in the middle of a historic farm in Bucks County, Pa. She plants colorful, recycled gardens in cities and creates hopeful installations in healing spaces.
When she is not designing and looking for salvaged treasure, Colleen teaches others how to heal their spirit through altered books. She shows us how to get the joy and the sadness we keep inside OUT on painted pages.
She has always known that the story is all the bits and pieces and in the things we save and tuck away. All of these become part of her healing process. And, what she knows for sure is that art heals us.
Colleen's work on healing and altered books was published in a London medical journal. She has written several articles for Stampington Magazines. Her artwork is in private collections across the United States and Europe.

photo credit: Brae Howard Photography