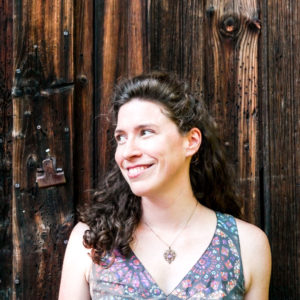 Camille DeAngelis is the author of Immaculate Heart (St. Martin's, 2016), the Alex Award-winning Bones & All (St. Martin's, 2015), Petty Magic: Being the Memoirs and Confessions of Miss Evelyn Harbinger, Temptress and Troublemaker (Crown, 2010), and Mary Modern (Crown/Shaye Areheart, 2007), as well as an original guidebook, Moon Ireland (Avalon Travel/Perseus Books/Hachette, second edition published 2017). She is a graduate of New York University (B.A. in Fine Arts, minor in Irish Studies, 2002) and the National University of Ireland, Galway (M.A. in Writing, 2005). Her book of practical philosophy, Life Without Envy: Ego Management for Creative People, was published by St. Martin's Griffin in September 2016, and her debut children's fantasy novel, The Boy From Tomorrow, will be published by Amberjack in May 2018. She is a board member of the Writers' Room of Boston.
A longtime vegetarian, she went vegan in April 2011, and in June 2013 became a certified vegan lifestyle coach and educator through Victoria Moran's Main Street Vegan® Academy. She is currently working on a follow up to Life Without Envy on the connection she's found between veganism and creativity.
Originally from New Jersey, Camille now lives in Somerville, Massachusetts.
photo: Anne Weil