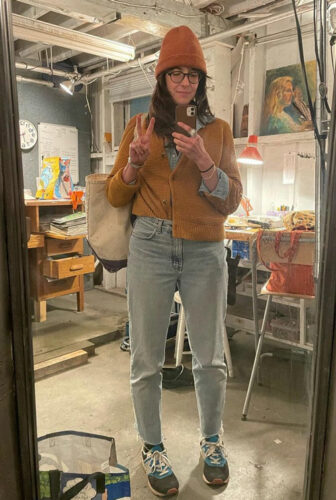 Primarily self-taught, I created my first collection in 2015 out of my Boston apartment's dining room.
I experimented, learned along the way, and built a community of mentors. In a short time, I decided to pursue jewelry full-time.
My work is inspired by simplicity. I find beauty in negative space, clean simple lines, and a clear focal point. I love vintage items, second-hand clothing, old structures.
I'm drawn to the imperfections, the marks of use, and the feeling of a history.
For that reason, I like my work to look like it was handcrafted because it is.
I intentionally put scratches in my work, and almost always oxidize pieces because the patina just gets better with time.
Other elements I tend to gravitate towards are nature. More specifically, mountain scapes, the night sky, stars, and the moon. Seeing nature always makes me feel grounded and like I can breathe a little deeper.
The ability to make jewelry is truly an honor. To know someone will lay a piece on their body and look at it throughout the day is an awesome responsibility. I inspire for my work to invoke the same feeling of groundedness and beauty that the mountains, night sky, and the moon gives me.
You can stay up to date with my latest releases on IG @ashleyprocopiojewelry