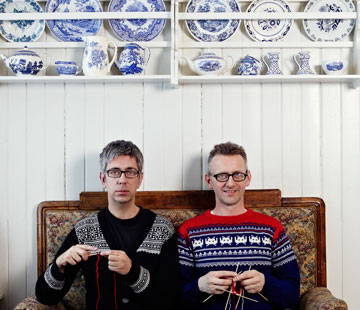 Scandinavians Arne Nerjordet and Carlos Zachrison are highly regarded designers, textile artists and authors. They are best known for their craft books and their original, colourful and visually striking designs. Their work is highly influenced by their Scandinavian background and their everyday life in rural Norway. They work under their artist name ARNE & CARLOS, which they established in 2002.
In 2010, ARNE & CARLOS' first craft book, Julekuler (55 Christmas Balls to Knit) became an immediate Norwegian best-seller and consequently went on to become a best selling book in North America, Europe and Asia. Today, ARNE & CARLOS have published 7 books enjoyed by people from all over the world. Their books are available in Norwegian as well as English, Danish, Dutch, Estonian, Finnish, French, German, Icelandic, Italian, Japanese, Korean, Russian, Spanish and Swedish.
ARNE & CARLOS' work is on permanent display at two museums in Oslo, Norway: The National Museum of Art, Architecture and Design and the Norwegian Museum of Cultural History. They have also been on display at The Louisiana Museum of Modern Art in Denmark and The Gwangju Museum of Modern Art in South Korea. In 2012, to mark ARNE & CARLOS' 10th anniversary, The National Museum of Art, Architecture and Design curated and produced a solo exhibition of the duos' work. The exhibition was later shown in museums and art galleries all across Norway for 3 consecutive years.
The two Scandinavian designers have collaborated with many prestigious international brands, including high-end Japanese fashion label Comme des Garçons. Today they design for and work closely with Rowan, Shachenmayr, and Regia yarns.
ARNE & CARLOS' creative base is located 170 kilometres north of Oslo, Norway in the mountain region Valdres. Between the lake and the mountains, visitors will find a disused railway station that has been converted into their own eclectic design studio and home. At this idyllic location Arne Nerjordet and Carlos Zachrison absorb the rich traditions of Scandinavian arts and crafts while adding their own personal inspirations.
Note: this class will be in ENGLISH (have no fear!) but enjoy the beauty of the video below if you want to get a vibe for these two!