It has been a while since I've had my own space and time to create. I wasn't sure how I would use that space – wasn't quite sure what my spirit would need – and I was there to fully listen to my spirit. I ended up creating so much! Perhaps it was being in the midst of so many other people creating as well, that creative spirit.  Or perhaps it was the land and water itself. I was nurtured in ways I did not expect. There was definitely something in the air.

      – Ruth Forman, 2019 Maker-in-Residence
Our Maker-in-Residence program was created to celebrate those makers who give so much of their time, energy and spirit to the maker community. We wanted to make sure they got nurturance and encouragement, too. The vision was to provide them with the place and space to connect deeply with their creative calling and mess about with new projects that they hadn't had the time to play with. In 2019, we clarified our intention to focus especially on the work of BIPOC and LGBTQIA makers as we wanted not only to offer uninterrupted time at our lakeside retreats for deep nurturance of the creative spirit, we also wanted to increase the visibility and awareness of the work they are doing.

Gaye Glasspie :: Spring 2021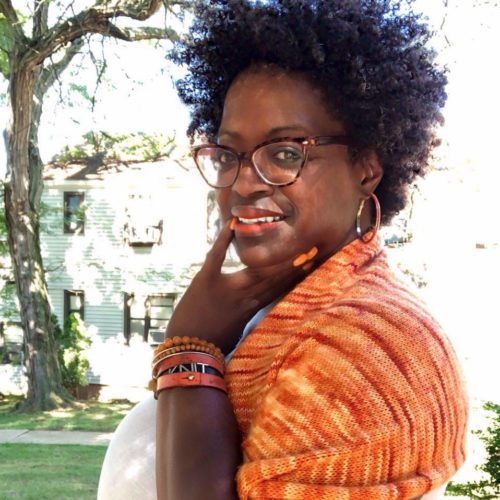 Gaye Glasspie a.k.a. GGmadeit a.k.a. GG, is a 50 something year-old who fell in love with knitting late in life – in just the last few years!
She is self-taught via YouTube and some wonderfully friendly yarn stores, and is obsessed with all things orange. GG discovered knitting during a very challenging time in her life – knitting is her ride or die, her BFF, her kind of therapy. Knitting has also become a beautiful bridge into a world of wonderful people and a way to universally connect with others through knitting. She knits every day and if not knitting, is fondling her favorite indie dyed yarn. She has a major crush on FAT fibers – the chunkier the better. She has even overcome her fear of fingering weight yarn AND has made a sweater or two!
Gaye can be found on the virtual streets @ggmadeit where she shares an intimate and inspiring inside look at her fabulous orange, knitterly life. And, on her YouTube channel where she brightens the world with her videos.
Niio Perkins :: Fall 2021

Niio Perkins (Bear Clan, Haudenosaunee) is an award- winning designer and owner of Niio Perkins Designs in Akwesasne, New York. Her work has been purchased by and exhibited at prestigious galleries throughout North America.
Her seminal work, a Haudenosaunee woman's traditional outfit entitled "Emma," was featured in the Native Fashion Now exhibition that traveled nationally to institutions such as Peabody Essex Museum and Smithsonian's National Museum of the American Indian.
She recently expanded her offerings, debuting a ready-to-wear clothing line as part of a showcase at Indigenous Fashion Week Toronto. Niio incorporates natural materials, heirloom fabrics and antique goods in her work and designs each piece inspired by the vibrant artistic tradition of her people. An expert in the Iroquois raised beadwork technique, her distinctive creations are sought after throughout the Indigenous art world. Her recent venture into textiles has opened a new world of possibilities. @niioperkinsdesigns
Ruth Forman :: Fall 2019

Ruth Forman is the author of the forthcoming board books Curls and Glow (Simon & Schuster, 2020 & 2021). She is an award-winning author of the poetry collections Prayers Like Shoes (2009), Renaissance (1997), and We Are the Young Magicians (1992) as well as the children's book Young Cornrows Callin Out the Moon (2009).
She has received the Barnard New Women Poets Prize, The Pen Oakland Josephine Miles Literary Award, The Durfee Artist Fellowship, the DC Commission on the Arts and Humanities Artist Fellowship, the National Council of Teachers of English Notable Book Award, and recognition by The American Library Association. She has presented in forums such as the United Nations, the PBS series The United States of Poetry and National Public Radio.
Ruth is a former teacher of creative writing with the University of Southern California and June Jordan's Poetry for the People program at UC Berkeley, as well as a fourteen-year faculty member with the VONA-Voices writing program. She is currently a professor at the Middlebury Bread Loaf School of English.
When not writing and teaching, Ruth practices a passion for classical Yang family style tai chi chuan.