Description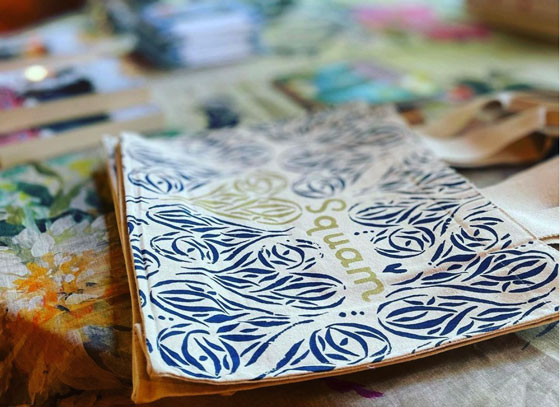 Our 2021 tote bag is honestly one of our loveliest ever and that's not just because it is covered in hearts. Replete with a gusseted bottom and two interior pockets — one the perfect size for your phone— the tote is made from is 100% organic cotton. The handles, constructed from a recycled cotton nivad tape, are double-strength design so this bag can carry the heaviest of hauls from the farmers' market, the studio or office.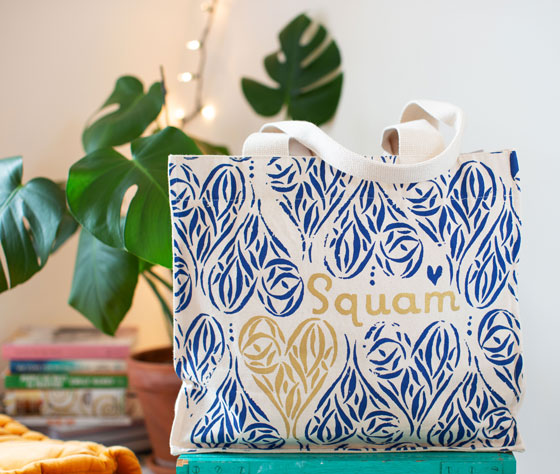 Of course, best of all, the original artwork is a unique hand block print created for us by Phoebe Stout of Untold Imprint. (For those who have asked, yes, the gold heart does shimmer and will be sure to bring light to your day). Perfect size for books, magazines as well as laptops or as a project bag.
Dimensions are: height 36 cm x width 39 cm x depth 12 cm.
Please note, this is a limited edition design and quantities are limited.
When they are gone, that's it; there are no more.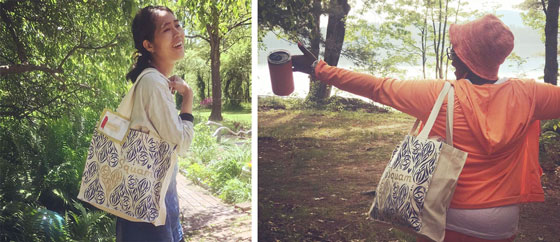 totes in action
on left, Chinatsu Nagamune :: on right, Gaye Glasspie
On the flipside we celebrate our fabulous 2021 sponsors:  KOIGU, Brooklyn Tweed, Purl Soho, Harrisville Designs, Jilly & Kiddles and Knit Wit of Portland