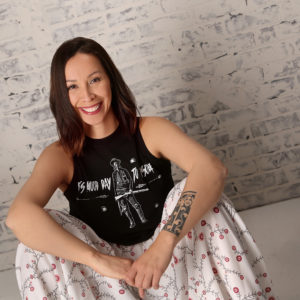 Niio Perkins (Bear Clan, Haudenosaunee) is an award-winning designer and owner of Niio Perkins Designs in Akwesasne, New York. Her work has been purchased by and exhibited at prestigious galleries throughout North America.
Her seminal work, a Haudenosaunee woman's traditional outfit entitled "Emma," was featured in the Native Fashion Now exhibition that traveled nationally to institutions such as Peabody Essex Museum and Smithsonian's National Museum of the American Indian.
She recently expanded her offerings, debuting a ready-to-wear clothing line as part of a showcase at Indigenous Fashion Week Toronto. Niio incorporates natural materials, heirloom fabrics and antique goods in her work and designs each piece inspired by the vibrant artistic tradition of her people. An expert in the Iroquois raised beadwork technique, her distinctive creations are sought after throughout the Indigenous art world. Her recent venture into textiles has opened a new world of possibilities.
"Creating raised beadwork is my way of honoring the unique gifts passed down through generations of Haudenosaunee (People of the Longhouse), and forging a legacy of cultural expression through design. Influenced by the beauty of ceremony and inspired by feminine energy, my creative aesthetic fuses traditional attire with a tough but dignified attitude for a distinctive look.
Interpreting deeply rooted cultural and spiritual motifs into treasured jewelry, clothing and accessories is a family specialty. Handmade in the heart of Akwesasne Mohawk Territory, my work showcases ancient Haudenosaunee symbols and raised beadwork techniques."