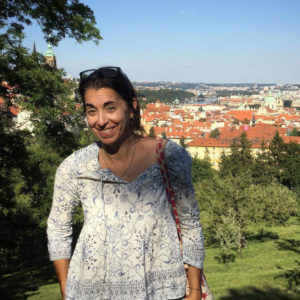 For the last 25 years, Karen Stevens has been a freelance CAD software designer and teacher, training textile and fashion designers to create knits, prints and wovens for the garment industry.
These days you are more likely to find her in her creatively cluttered studio than on her computer, adding one more vintage patch to a favorite pair of jeans or double gauze shirt.
Her love of visible mending, natural fibers, hand dyed fabrics and slow stitching has recently turned into a small side business, creating one of a kind stitched curiosities for her friends and Etsy shop. Karen lives in rural Northwest CT with her family, menagerie of pets wearing party hats, and an indigo dipped laundry line.

"You repair the thing until you make it completely." – Louise Bourgeois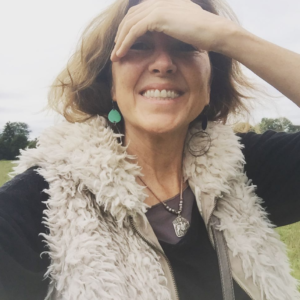 ELIZABETH DUVIVIER began teaching at the Lycee Lavoisier in Paris when she was 19. That was also the year she learned that she loved endives with beets, was allergic to ouzo and how to scale the wall of her apartment building in high heels. Over the years, she has taught French to high schoolers, Creative Writing to college students and how to live a mythic life to people from around the world.
Admittedly, the strongest call in her life has been to help others reconnect with their creativity but after building and running Squam Art Workshops since 2008, she is now focused on sacred time for writing and mixed-media. Her stated intention is to achieve this with a complete absence of an agenda, itinerary, playbook, libretto or anything that might resemble a plan.
She finds nothing incongruous about her love for the writing of Mary Oliver and Tom Robbins; Eknath Easwaren and Asterix comics; Edith Wharton and Scarlett Thomas; John O'Donohue and anyone who can make her laugh.
And, she is confident that it is only a matter of time before Durga returns to set the world to right.